AN OUTSTANDING OPPORTUNITY FOR FINANCIAL ADVISORS AND TPAs
SMALL BUSINESS = BIG OPPORTUNITIES
In today's competitive world, it's challenging for small and medium-sized employers to provide the high-quality benefits that employees value most. By partnering with Value Point Associates (VPA), Registered Investment Advisors (RIAs) and other investment professionals can tap into this lucrative but under-served market.
Of the 5.75 million employers in the U.S., only about 10% offer 401(k) plans to their employees. The remaining 90% are typically smaller employers who believe these three common misconceptions:
Small businesses can't afford a good quality 401(k) plan
Managing benefits is too time-consuming and costly for a small business
Small businesses don't have the knowledge and experience necessary to set up and administer a 401(k) plan
VPA works with businesses of all sizes to provide a full suite of employee benefits, starting with 401(k) plans and including health insurance, group life, dental, vision, workers comp, and more.
"PEPs are all about collecting assets. The fact of the matter is that 99.95% of these PEPs will fail because they do not become large enough to be self-sustaining. People are very wary, especially on the TPA side. It is all about distribution, and unless you have distribution you are just an RIA on your own. You are an office. I do not think you will get the assets to fully support a PEP on your own. And, there is a lot of effort that goes into supporting and servicing them properly. Value Point Associates is a great example of a full-service solution that limits fiduciary liability and is somewhere to go and park Plan assets. Why re-invent the wheel?"
Ary Rosenbaum
The Rosenbaum Law Firm
YOU CHOOSE. WE DELIVER.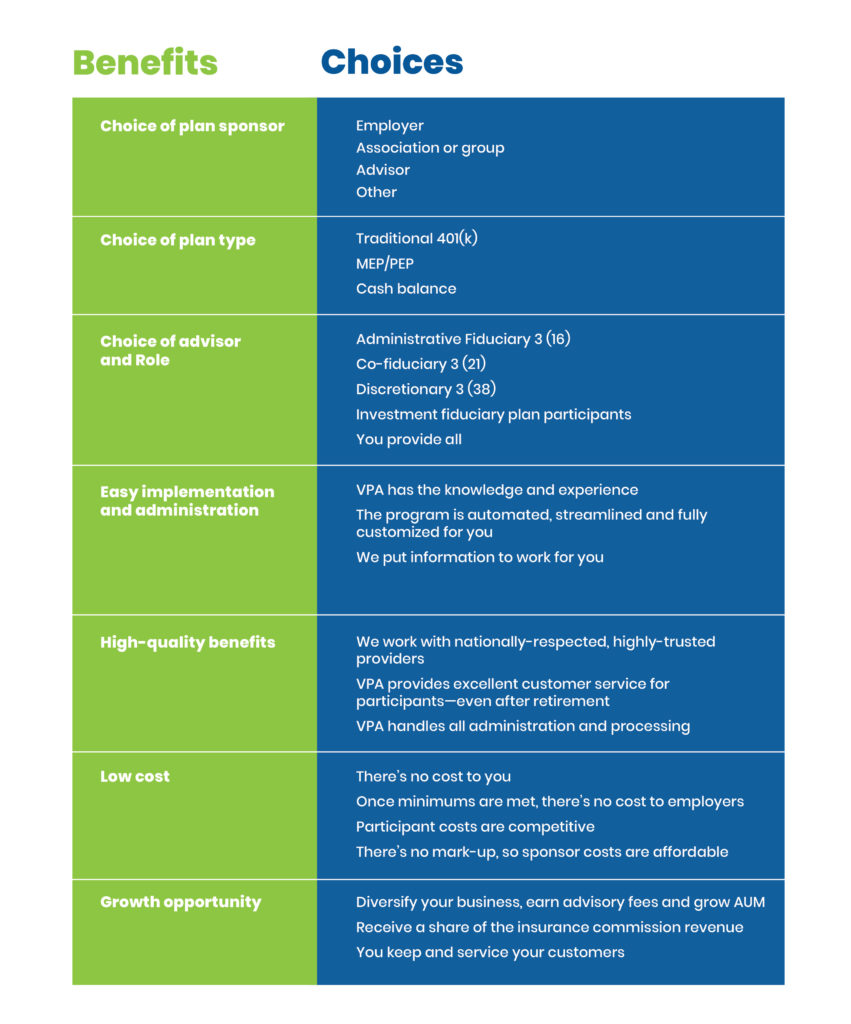 To find out more about the high-quality benefits, flexibility and choice VPA offers you and your clients, fill out the contact form below or call us at 844-887-6468 today.