A NATIONAL EMPLOYER MEMBER ASSOCIATION
ABOUT VALUE POINT ASSOCIATES
Value Point Associates (VPA) is a national Employer Member Association offering "large-company" benefits to small and medium size businesses—at cost. VPA is the plan sponsor of a closed Multiple Employer Plan (MEP). Closed MEPs are made up of more than one unrelated employer—with employee participants—and a sponsor group, association, or organization.
By leveraging the size of our collective membership, VPA can negotiate large-employer benefits at rates that are affordable for small to medium size employers. VPA will handle all benefit administration and benefit design, and we'll provide you with a choice of benefit programs that are ideally suited to your specific business.
LARGE-COMPANY BENEFITS AT COST
Providing benefits to employees is a challenge that all employers face. Large employers have a competitive cost advantage because of their ability to negotiate with providers. But, 84% of all small employers under 100 employees feel they can't offer a 401(k) plan to their employees because the cost is too high.
The VPA Employer Member Association gives small to medium size companies like yours access to retirement and group life and health insurance benefits at competitive large plan rates, helping you compete for and retain the best employees in your industry. Best of all, you have access to these exceptional benefits at affordable rates without the administrative responsibilities and reporting hassles.
As VPA members, small to medium size employers pool their numbers to enjoy the same competitive advantage that large employers do. Our plans provide your business with a highly competitive benefits package, positioning you for greater business success.
SAVE MONEY. SAVE TIME. REDUCE RISK.
Using a proven Employer Member Association model, VPA gives member employers access to 401(k), Life Insurance, Health Insurance, Dental, and other benefits at cost. Plus, you save time because the administrative responsibilities are taken care of by VPA, including:
• Benefit package administration and management
• Plan sponsorship
• Benefit provider management and coordination
• Coordination with payroll services/departments
• State and federal reporting
• Yearly audit
• Form 5500 preparation and filing
VPA membership also reduces your personal ERISA fiduciary liability. With a typical 401(k), employers serve as the plan sponsor, which can put at risk not only your business but also your home and personal assets, even if your business is incorporated.
Since the VPA 401(k) plan is sponsored by the Employer Member Association, much of that risk shifts to the Association and the Provider Network.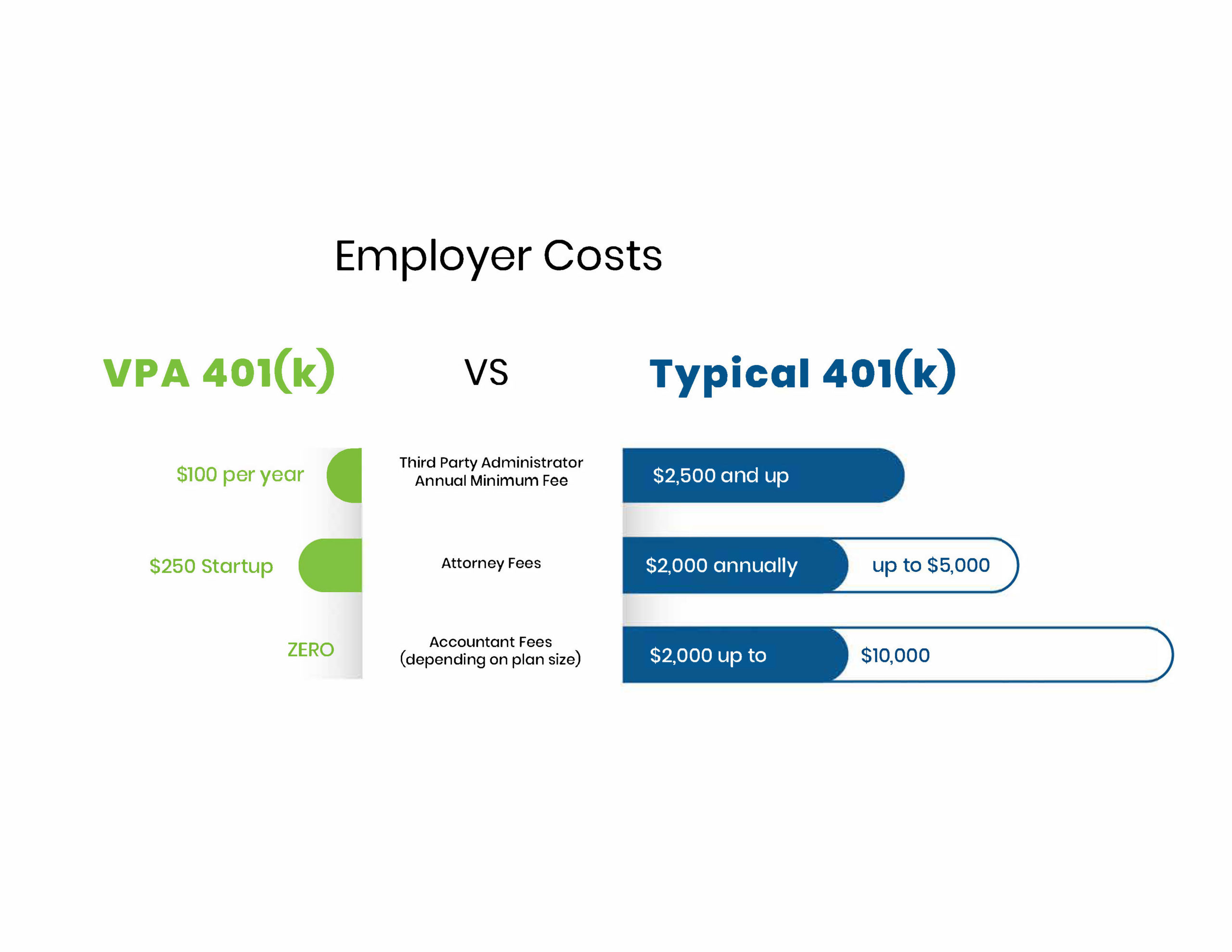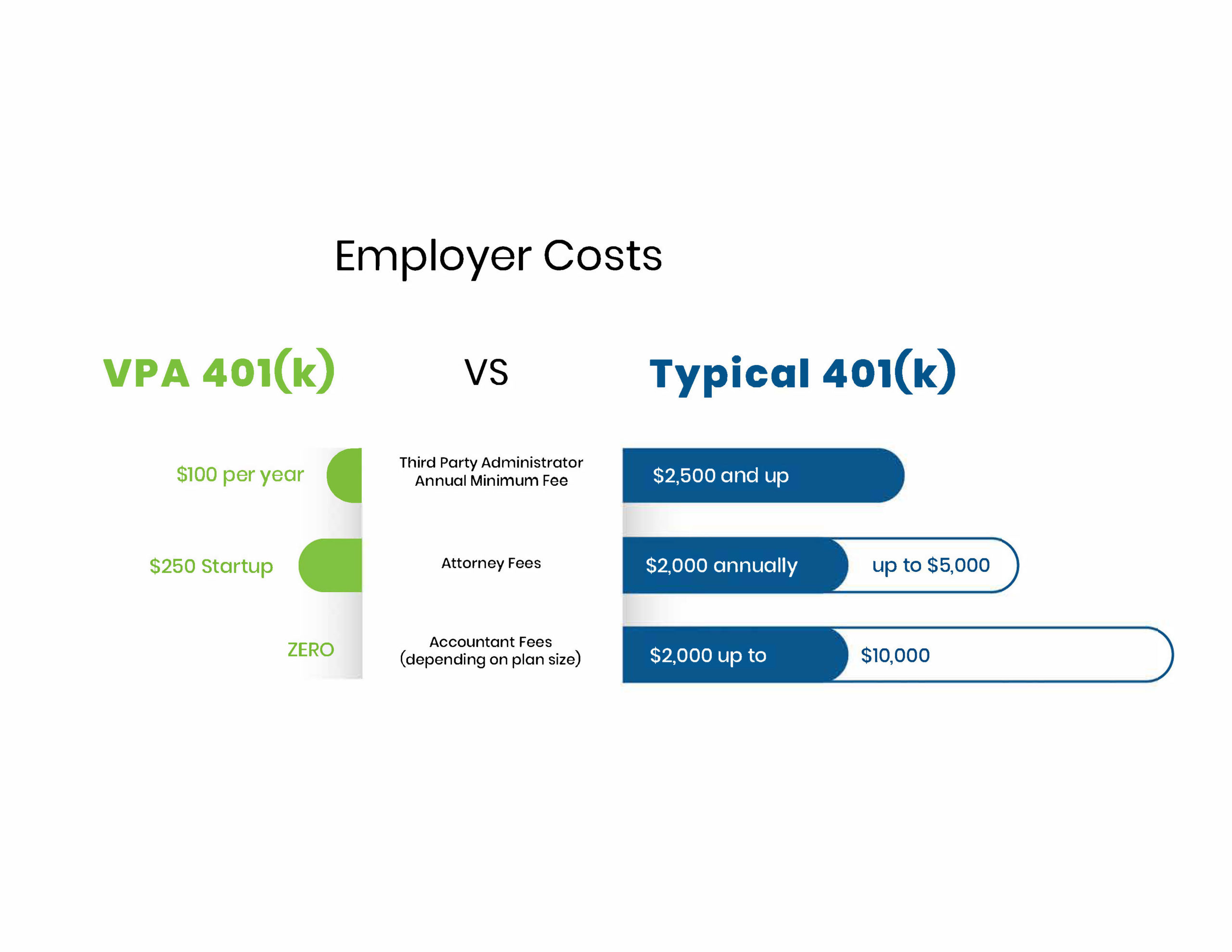 THE COMPETITIVE ADVANTAGE PAYROLL COMPANIES NEED
For years, the payroll services industry giants have been providing their customers of all sizes with a full range of employee benefits that help create long-term business relationships—typically at a significant cost because the employers did not have other choices. VPA enables you to increase your own revenue, while giving your customers high value benefits at a price they can afford and helping them save money compared with current benefits. This is your opportunity to be significantly more competitive when attracting and retaining employers of all sizes.
These are the benefits that most job seekers believe can only be found in a large corporate environment. By offering VPA membership to your small to medium size business customers (1-500+ employees), you'll be helping them attract and retain the best and brightest employees in today's competitive job market.
A TRUSTED PROVIDER NETWORK
FIND OUT MORE
To find out more, complete the contact form below, or call us at 844-887-6468.