A NATIONAL EMPLOYER MEMBER ASSOCIATION
ABOUT VALUE POINT ASSOCIATES
Value Point Associates (VPA) is a national Employer Member Association offering "large-company" benefits to small and medium size businesses—at cost. VPA is the plan sponsor of a closed Multiple Employer Plan (MEP). Closed MEPs are made up of more than one unrelated employer—with employee participants—and a sponsor group, association, or organization.
By leveraging the size of our collective membership, VPA can negotiate large-employer benefits at rates that are affordable for small to medium size employers. VPA will handle all benefit administration and benefit design, and we'll provide you with a choice of benefit programs that are ideally suited to your specific business.
LARGE-COMPANY BENEFITS AT COST
Providing benefits to employees is a challenge that all employers face. Large employers have a competitive cost advantage because of their ability to negotiate with providers. But, 84% of all small employers under 100 employees feel they can't offer a 401(k) plan to their employees because the cost is too high.
The VPA Employer Member Association gives small to medium size companies like yours access to retirement and group life and health insurance benefits at competitive large plan rates, helping you compete for and retain the best employees in your industry. Best of all, you have access to these exceptional benefits at affordable rates without the administrative responsibilities and reporting hassles.
As VPA members, small to medium size employers pool their numbers to enjoy the same competitive advantage that large employers do. Our plans provide your business with a highly competitive benefits package, positioning you for greater business success.
SAVE MONEY. SAVE TIME. REDUCE RISK.
Using a proven Employer Member Association model, VPA gives member employers access to 401(k), Life Insurance, Health Insurance, Dental, and other benefits at cost. Plus, you save time because the administrative responsibilities are taken care of by VPA, including:
• Benefit package administration and management
• Plan sponsorship
• Benefit provider management and coordination
• Coordination with payroll services/departments
• State and federal reporting
• Yearly audit
• Form 5500 preparation and filing
VPA membership also reduces your personal ERISA fiduciary liability. With a typical 401(k), employers serve as the plan sponsor, which can put at risk not only your business but also your home and personal assets, even if your business is incorporated.
Since the VPA 401(k) plan is sponsored by the Employer Member Association, much of that risk shifts to the Association and the Provider Network.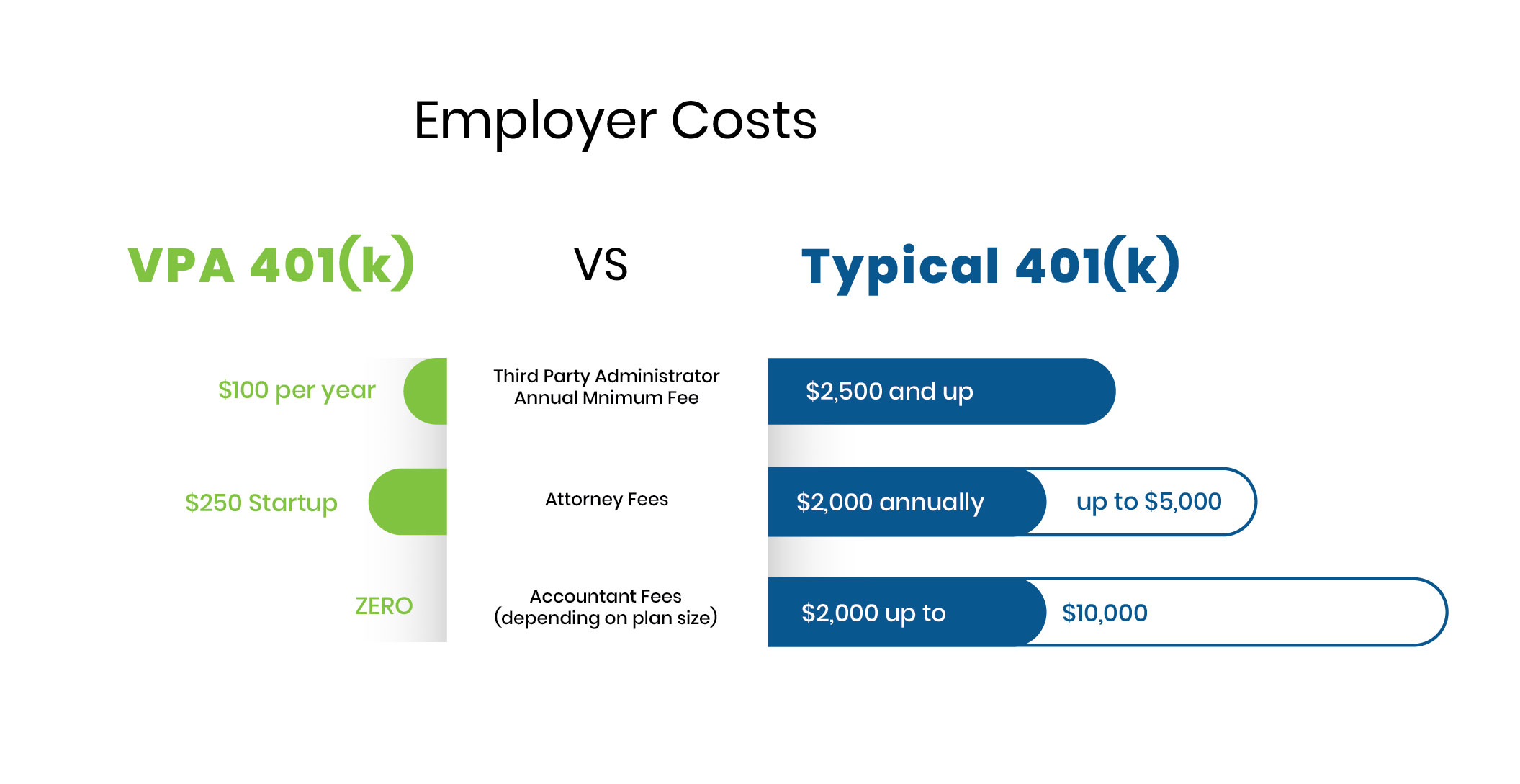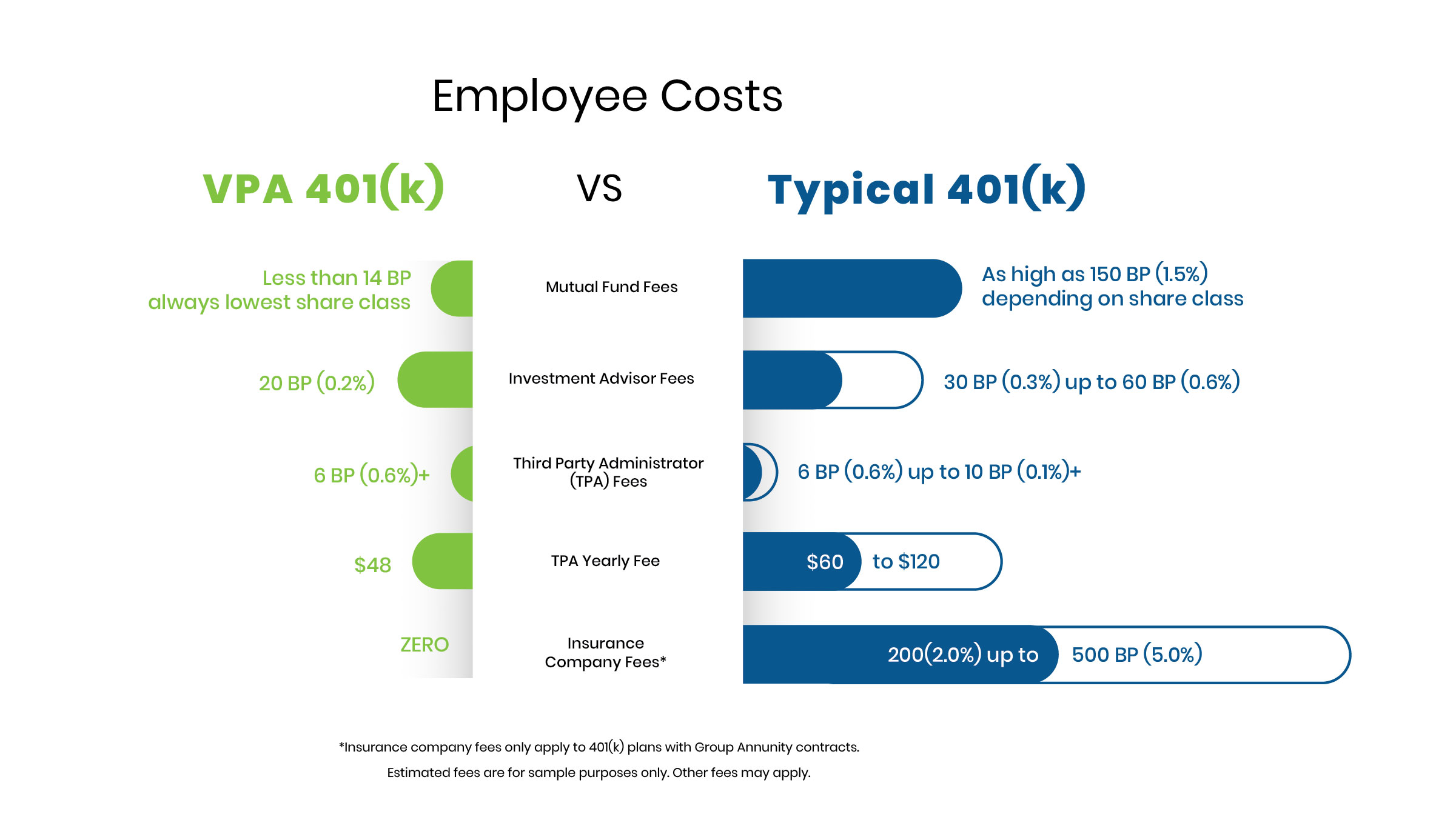 THE COMPETITIVE ADVANTAGE PAYROLL COMPANIES NEED
For years, the payroll services industry giants have been providing their customers of all sizes with a full range of employee benefits that help create long-term business relationships—typically at a significant cost because the employers did not have other choices. VPA enables you to increase your own revenue, while giving your customers high value benefits at a price they can afford and helping them save money compared with current benefits. This is your opportunity to be significantly more competitive when attracting and retaining employers of all sizes.
These are the benefits that most job seekers believe can only be found in a large corporate environment. By offering VPA membership to your small to medium size business customers (1-500+ employees), you'll be helping them attract and retain the best and brightest employees in today's competitive job market.
A TRUSTED PROVIDER NETWORK


Apollo Wealth Management provides comprehensive financial planning and advisory services to individuals and business clients, including pension funds and 401(k) plans. Clients benefit from Apollo's 25+ years of experience managing defined benefit pension and 401(k) plans, covering all facets of ERISA and Taft-Hartley. Apollo prides itself on their uncompromising commitment to service, unquestionable ethics, unbiased financial planning advice, and allegiance to their customers.
Broadridge Financial Solutions (NYSE:BR) is a global Fintech company with over $4 billion in revenues and is recognized as an invaluable partner for the world's leading companies and financial institutions. Broadridge helps drive business transformation for clients with solutions for enriching client engagement, navigating risk, optimizing efficiency and generating revenue growth. They handle millions of trades a day involving trillions of dollars, support communications that reach 75% of North American households, and manage shareholder voting in 90 countries. 90% of mutual fund assets flow through their platforms.
Broadridge recently expanded its capabilities with the acquisition of Matrix Financial Solutions, who was the leading independent provider of mutual fund processing solutions for the defined contribution market. They hold a substantial position in the rapidly growing small- and medium-sized retirement plan segment, and their open architecture solutions enable customers to leverage distribution arrangements with approximately 25,000 mutual funds from nearly 500 mutual fund families. Matrix's reliable, operationally efficient solutions are a natural extension of the core competencies Broadridge has developed over the past four decades.
AccuRecord is a nationally-recognized and respected independent Third Party Administrator (TPA) of Defined Contribution Plans. AccuRecord offers superior comprehensive services, including Open Architecture, Self-Directed Brokerage accounts, Private Label Websites, ETFs, revenue sharing, and full fee disclosure to 401(k), 457, 403(b) and virtually all other Defined Contribution Plans, including Multiple Employer Plans (MEPs) and Professional Employer Organizations (PEOs). As a non-producing TPA, any potential conflict of interest is avoided because they do not select plan investment options.
AccuRecord's proprietary daily valuation software system (CURE) enables the delivery of back office, web portal, daily valuation, record keeping, administration, and processing services to customer partners with over 7,000 plans ranging in size from start-ups to large well-established plans, and thousands of participants who also have access to a call in support center and voice response system. AccuRecord seeks to continually exceed the capabilities and standards of the competition by providing exceptional customer service and a system with unparalleled agility.
The Rosenbaum Law Firm, P.C. specializes in ERISA and retirement planning, helping plan sponsors reduce their plan cost, facilitate administration, and limit their fiduciary liability at a flat fee.
Mr. Rosenbaum has been quoted as an expert in retirement plans in Long Island Business News, PlanSponsor.com, DailyFinance.com, Amercan Express Open Forum, Marketwatch. com, Pittsburgh Post-Gazette, the Wall Street Journal, and FiduciaryNews.com; and authors articles for Long Island Business News, PlanSponsor.com, and newsletters that he sends to clients and financial advisors nationally.
Per Vanguard's website, Vanguard was founded on the idea of doing what is right for investors. More than 40 years later, it is still who they are. Vanguard has no outside owners, helping it keep its costs low. The average expense ratio for Vanguard mutual funds and ETFs is 83% less than the industry average. (As of December 31, 2018, Vandguard's average expense ratio is .10%. Industry average mutual fund and ETF expense ratio is .58%. All averages are asset-weighted. Industry averages exclude Vanguard. Sources: Vanguard and Morningstar, Inc. as of December 31, 2018.
88% of their funds have performed better than their peer-group averages over the last 10 years. (For the 10-year period ended September 30, 2019, 9 of 9 Vanguard money market funds, 49 of 62 Vanguard bond funds, 22 of 23 Vanguard balanced funds, and 130 of 146 Vanguard stock funds—for a total of 210 of 240 Vanguard funds—outperformed their Lipper peer-group average. Results will vary for other time periods. Only mutual funds and ETFs (exchange-traded funds) with a minimum 10-year history were included in the comparison. Source: Lipper, a Thomson Reuters Company. The competitive performance data shown represent past performance, which is not a guarantee of future results.)
FIND OUT MORE
To find out more, complete the contact form below, or call us at 844-887-6468.